Last Nights Dinner
I thought I would share a few things we made
We had Aimee's baked chicken from All recipes
Smashed cauliflower with yams
We really liked all of it. The smashed cauliflower was
really improved by adding a half of a yam. I changed up
a traditional broccoli salad with sunflower seeds instead
of peanuts. Check out the recipes below sorry I only have a
Aimee's Baked chicken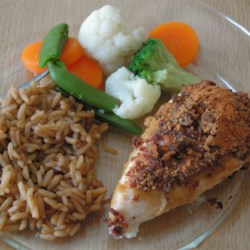 4 chicken breasts 1/4 cup bacon bits
4 oz. Dijon mustard 1/2 cup parmesan cheese
Preheat oven 400 degrees. Place chicken in oven proof pan.
Slather mustard evenly over chicken, then pour teriyaki sauce
evenly over all. Sprinkle with bacon bits, then cover with cheese. Bake at 400 degrees for 30 min.
Broccoli Salad
3 cups chopped broccoli(I like to blanch it for like 1 minute)
1/4 cup chopped purple onion
1/3 cup sunflower seeds or peanuts
1/2 cup bacon bits or more if you like
1/2 cup chopped red bell pepper
dressing
-1/4 cup light mayo, 1tsp splenda or sugar, s&p to taste
2-3Tbls red wine vinegar mix and pour over salad good to let it
hang out for a half an hour or so before eaten.
Smashed Cauliflowered Yams
Steam half a head of cauliflower or whole if you want I used
the orange colored cauliflower.
Bake a yam or sweet potato if your going to turn the oven on
you might as well bake a few and use them later.
Just put the cauliflower and yam in the food processor with a
little butter s&p. I wanted to loosen mine up so I added a little
coconut milk I had in the fridge you could use sour cream, cream,
yogurt or milk. Mia thought it was really really good. Jess would've liked it to.